Dober Lidsky Mathey has been a leader in creating campus solutions for colleges, universities, and schools for almost 50 years, and we believe in sharing our ideas and observations with our clients as well as others in our industry.

Higher Education is changing, as it has since the 14th Century. Sometimes the change has been slow and subtle and at other times, change has been rapid and not subtle, like today. From technology to pedagogy, from finances to operations, and from students to campus life, higher ed is very different from the way it was just a decade ago.




Books

Our latest book "Perspectives on Campus Planning", published July 2015, contains articles and writings that reflect our reactions, observations, and perspectives on the changes that are relentlessly emerging. We hope you find these helpful as you work to guide your institution to an ever-brighter future. If you would like to order a copy of our latest book, please click on the book cover below.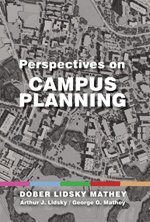 Perspectives on Campus Planning
By: Arthur J. Lidsky and George G. Mathey
Campus Planning
By: Richard P. Dober
Campus Design
By: Richard P. Dober


Campus Architecture Building in the Groves Academe
By: Richard P. Dober


Campus Landscape Functions, Forms, Features
By: Richard P. Dober


Campus Heritage
By: Richard P. Dober


Old Main Fame, Fate and Contributions to Campus Planning and Design
By: Richard P. Dober
Campus Image and Identity
By: Richard P. Dober
A Pattern Language
by Christopher Alexander


Campus
by Paul Venable Turner


Doing Academic Planning
edited by Brian P. Nedwek


Facing Facts Realism in American Thought and Culture, 1850-1920
by David E. Shi


Image of the City
by Kevin Lynch


How Buildings Learn What Happens After They're Built
by Stewart Brand


The Oregon Experiment
by Christopher Alexander


The Spaces Between Buildings
by Larry R. Ford